All Ethnic & Gender (E&G) Centers are open to support your student success and needs. Please check individual websites for specific operational hours and contact info. COVID-19 and return to campus information.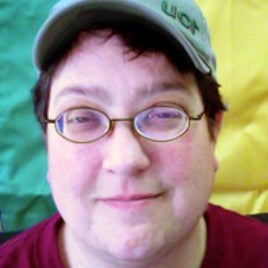 Contact Information
LGBT Resource Center
(951) 827-2267
Nancy Jean Tubbs has directed the LGBT Resource Center since 2000. She grew up in Texas (y'all), where she attended Texas A&M University and earned a bachelor's in English and a master's in educational administration. Nancy is a radical bureaucrat who enjoys improving policies, spending budgets, writing reports, questioning gender, dialoguing sexuality, challenging systems of oppression and wearing comfortable shoes. She's active in the Consortium of Higher Education LGBT Resource Professionals and has co-authored published articles on allies development and transgender inclusion. Come by Nancy's office to meet her muppets, Patrick and The Dude, as well as the infamous Conference Monkey. "It takes an entire campus to raise an LGBT resource center," says Nancy, aka "nancyjean." "I'm proud to be a member of the UCR family." Learn more about Nancy wearing a dress here.