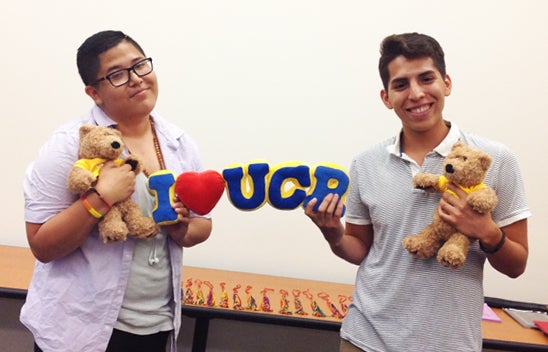 Rewarding Our Student Leaders
The UCR LGBTQIA Student Leadership Scholarships are awarded to undergraduate or graduate students who demonstrate exceptional student leadership in the UCR LGBTQIA community.
A scholarship selection committee comprised of UCR staff, faculty, and students selects up to two scholarship recipients annually. Each receives $500. Scholarship recipients are selected based on academic achievement, personal merit and their contributions to the LGBTQIA community.
---
Eligibility Requirements
Applicants must be…
A full-time undergraduate or graduate student at UCR
In good academic standing (with preference given to applicants with at least a 3.0 cumulative GPA on a 4.0 scale)
Be enrolled at least half-time at UCR the following fall quarter
Be able to demonstrate the following:

Excellent leadership qualities
Extensive involvement with UCR's LGBTQIA community
Concern for LGBTQIA issues (issues of lesbians, gays, bisexuals, transgender persons, queer people of color and general LGBTQIA political issues)
Note: Applicants of any sexual orientation or gender identity are invited to apply.
Application Process
Applications are now open and due by May 10, 2019, using this online form: https://www.surveymonkey.com/r/qcholarship2019 
Complete the online application. Note: it includes an essay of at least 750 words.
A scholarship selection committee of UCR staff, faculty, and students will choose up to two scholarship recipients.
Awardees will be announced at the Lambda Celebration at the end of the academic year.
Funds will be transferred to the students' business account(s) for the following fall quarter.
Questions may be directed to Nancy Tubbs, director of the LGBT Resources Center, at nancy.tubbs@ucr.edu or (951) 827-2267.
Past Scholarship Winners
We salute our past scholarship awardees. Learn more about these standout leaders and their contributions to our campus community. Help us endow the LGBTQIA Student Leadership Scholarship Fund for future leaders.